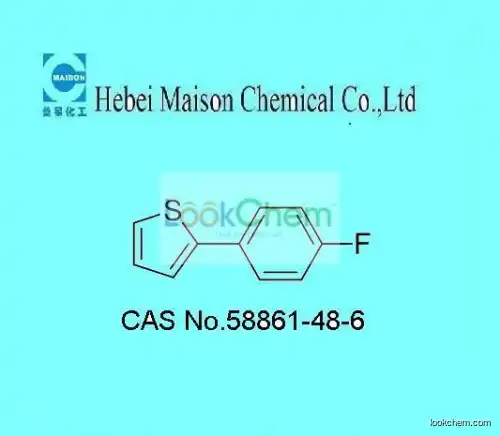 Canagliflozin intermediates 2-(4-Fluorophenyl)thiophene CAS NO.58861-48-6
FOB Price: USD: 200.00-200.00 /Metric Ton Get Latest Price
Min.Order: 100 Gram
Payment Terms: L/C,T/T
Available Specifications:

HPLC>98% (1-100)Metric Ton

Keywords
Canagliflozin CAS No.842133-18-0
Invokana
2-(4-Fluorophenyl)thiophene Hebei Maison
Quick Details
ProName: Canagliflozin intermediates 2-(4-Fluor...
CasNo: 58861-48-6
Appearance: off-white powder
Application: canagliflozin intermediates
DeliveryTime: goods in stock
PackAge: 20kg/drum or on request
Port: Tianjin
ProductionCapacity: 5 Metric Ton/Month
Purity: HPLC>98%
Storage: dry and avoid sunshine
Transportation: on request
LimitNum: 100 Gram
Superiority
Maisonchem has its own research center and production base. The research center is located at High-Tech Development Zone in Shijiazhuang, it covers an area of 1000sq. meter with complete experimental facilities and detection equipment,it's specializing in research & development of new products, and optimization of new production process. The production base covers an area of 67,000 sq. meters with more than 120 set of large-scale reactors which can be used to conduct high temperature, high pressure and ultra low temperature reactions. Our facility has rectification, molecular Short-path distillation and other refining workshop together with a testing room equipped with GC, HPLC and other detecting instruments. We are serving the research and production work of liquid crystal, pharmaceutical, agrochemical, dyes and promoting the development of chemical industry by providing custom synthesis, contract manufacturing and process development of single liquid crystal, intermediates, rare fine chemical and organic intermediates.
Details
Chemical Name: 2-(4-Fluorophenyl)thiophene
CAS No.58861-48-6
Purity: HPLC>98.0%
Appearance: off-white powder
Application: Canagliflozin intermediates, pharmaceutical intermediates
Packing: 25kg/drum
The 2-(4-Fluorophenyl)thiophene with the CAS number 58861-48-6 is also called Thiophene,2-(4-fluorophenyl)-. Its molecular formula is C10H7FS. This chemical is a kind of organics. It should be stored in dry and cool environment.
The properties of the 2-(4-Fluorophenyl)thiophene are: (1)ACD/LogP: 3.83; (2)# of Rule of 5 Violations: 0; (3)ACD/LogD (pH 5.5): 4; (4)ACD/LogD (pH 7.4): 4; (5)ACD/BCF (pH 5.5): 391; (6)ACD/BCF (pH 7.4): 391; (7)ACD/KOC (pH 5.5): 2497; (8)ACD/KOC (pH 7.4): 2497; (9)#H bond acceptors: 0; (10)#H bond donors: 0; (11)#Freely Rotating Bonds: 1; (12)Polar Surface Area: 28.24 Å2; (13)Index of Refraction: 1.578; (14)Molar Refractivity: 49.223 cm3; (15)Molar Volume: 148.407 cm3; (16)Polarizability: 19.513×10-24cm3; (17)Surface Tension: 39.02 dyne/cm; (18)Enthalpy of Vaporization: 46.986 kJ/mol; (19)Vapour Pressure: 0.031 mmHg at 25°C.
You can still convert the following datas into molecular structure:
(1)SMILES: Fc1ccc(cc1)c2cccs2
(2)InChI: InChI=1/C10H7FS/c11-9-5-3-8(4-6-9)10-2-1-7-12-10/h1-7H
(3)InChIKey: PURJRGMZIKXDMW-UHFFFAOYAA